Kenpo is considered by many to be the first eclectic martial art. Its origin evolved from Karate which; according to legend, began over a thousand years ago in China.
At the beginning of the seventeenth century two families, Kumamoto and Nagasaki brought knowledge of Kenpo from China to Kyushu in Japan. Modified throughout many years into its current form, it is referred to as Kosho-Ryu Kenpo, or Old Pine Tree school. It is from here that most modern forms of Kenpo are derived.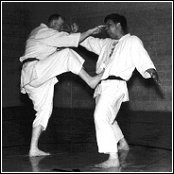 According to modern legend, in 1916 at the age of five, James Mitose was sent from his homeland in Hawaii to Kyushu for schooling in his ancestors' art of self-defense called Kosho-Ryu Kenpo. After completing his training in Japan, Mitose returned to Hawaii. Near the beginning of World War II in 1936, Mitose opened the "Official Self-Defense" club in Honolulu. It was from here that the five major Kenpo influences; Thomas Young, William K. S. Chow, Edmund Howe, Arthur Keawe and Paul Yamaguchi would study and bring Kenpo to the rest of the world.
William K.S. Chow adapted Mitose's approach and "Americanized" the art. He is perhaps responsible for the largest leap of Kenpo to the general public. In 1949, Chow opened a school of his own at a local YMCA and referred to his art as Kenpo Karate.
Edmund K. Parker, who is probably the most famous of Chow's practitioners, began studying Kenpo with Chow at the age of 16. Parker further adapted the methods so that they would prove practical in an actual fight and opened the first commercial Karate studio in 1954. He created a logical organization for the basic Kenpo techniques, dividing them into eight categories, such as stances, blocks, punches and so on. Parker graduated from Brigham Young and moved to California where he opened his second school in 1956 and also founded the International Kenpo Karate Association the same year. Parker taught the martial arts to many actors and celebrities such as Elvis Presley and Steve McQueen. He also appeared in movies and television shows like "I Love Lucy." Grand Master Edmund Parker is the undisputed "Father" of American Kenpo Karate.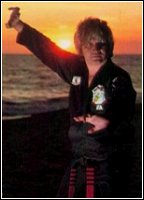 When Mr. Parker died in December of 1990, the International Kenpo Karate Association went through some major restructuring due in part to political differences, as well as other reasons. Many of the senior students went off to create their own associations and promote their own style of the American Kenpo system. Today Kenpo remains very strong in the martial arts industry.
Tracy Kenpo is nothing more than a scientific organization of the Kenpo techniques which the 21st Great Grand Master of Kenpo,James Masayoshi Mitose taught to his students, notably William Chow. William Chow in turn taught Ed Parker, who in turn taught theTracy Brothers, Al, Jim and Will.
The Tracy Brothers, as much as possible, have kept the techniques of Kenpo exactly as they were taught to them, and demand that they be executed with power and focus. The Tracy's also organized Kenpo, by naming each of the techniques and ordering them into course requirements for each rank. This was unheard of in the early 1960's when rank was often bestowed for athletic ability.
Practical and effective are the words most often used to describe Tracy's style of Kenpo. Self-defense is the main objective of the art, and any and all measures are used to assure the outcome of any assault.
The Tracy brothers began their martial training in fencing, boxing, and wrestling. They embarked on their study of Kenpo with Ed Parker and one of his first Black Belts, James Ibrao, in 1957, while attending college as pre-law students. Over time they developed a close relationship with Mr. Parker, and soon after Mr. Parker turned all the teaching of beginner and intermediate classes over to the Tracy brothers, who would develop an order in which the techniques would be taught, and the advanced classes were run by James Ibrao.
Al Tracy was the powerhouse of Ed Parker's studio, and, as seen in the brochure used in 1962-64 by Ed Parker, Al Tracy did all the breaking demonstrations. The Tracy brothers would also run Mr. Parker's studio when he would periodically return to Hawaii.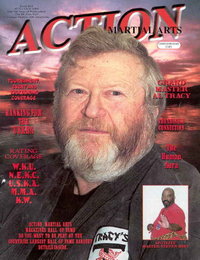 There has been question as to whether or not Al and Jim Tracy received their Black Belts (Shodan) from Ed Parker. In the Family Tree listed in the original "Infinite Insights", by Mr. Parker, you can see that Al and Jim Tracy are listed as Black belts under Ed Parker, first generation. They also have the largest number of Black Belts listed under their tree!
Al and Jim Tracy were promoted to Black Belt (Shodan) January 2, 1962. The certificate was dated January 7, 1962. In the spring of that year, the Tracy brothers opened their first studio in San Francisco, which was named Kenpo Karate Studio, and was the northern branch of Ed Parker's organization. It was there that the Tracy brothers created the three new Kyu ranks and the Kenpo "colored belt system". Ed Parker adopted the new 8-kyu system, but rejected the colored belts until finally converting to the Tracy color belt system in 1966. The Tracy brothers also created belt manuals (which contained 40 techniques per belt at that time) and gave the techniques names, like Attacking Circle, Raising the Staff, etc.
The Tracy brothers opened a second school, in Sacramento, in 1962, and a third, in San Jose, in 1963, and later changed the name of the schools to Tracy's Kenpo Karate.
Ed Parker turned the Kenpo Karate Association of America (KKAA) over to the Tracy brothers and then formed the International Kenpo Karate Association (IKKA). The Tracy brothers agreed to join the IKKA, on the condition that they could keep the standards of teaching of the KKAA for their own students.
Ed Parker promoted Al Tracy to 3rd Degree Black Belt on December 4, 1964. The certificate is from the IKKA and is signed by Ed Parker, Mills Crenshaw, Stan Hall, and Charles Sullivan, and witnessed by Charlotte Connor, the wife of Tom Connor.
The Tracy brothers later opened schools throughout California, as well as other states, and formed the Tracy's International Studios of Self-Defense.
By 1982, Ed Parker had changed what he called American Kenpo, so much so as to make it in Parker's own words, "no more than 10% Kenpo." It was around this time that the Tracy's completely broke from Ed Parker.
Al Tracy's Kenpo Karate remains to this day teaching "Original/Traditional" Kenpo as taught to him by Ed Parker.
The Tracy's International Studios of Self Defense is a worldwide organization, based out of Lexington, Kentucky, comprised of over 1,000 schools. It is the largest system of affiliated schools and the longest-running self-defense chain in the world.
Grand Master Al Tracy has organized the largest "gathering" of Kenpoist in the world. A true historic event called "The Gathering of Eagles", which took place in Las Vegas, Nevada, February of 1999. The Gathering brought together over seventy masters, representing Kenpo, American Kenpo, Shaolin Kenpo, Wun Hop Kuen Do, Lima Lama, Kajukenbo, etc., and included some of the biggest names in Kenpo; James Ibrao, Thomas Mitose, the son of the late James Mitose, Al Dacascos, Ralph and Rob Castro, William Chun, Sonny Gascon, Bart Vale, Larry Tatum, Dave Simmons, Adriano Emperado, Richard Lee, Sig Kufferath, Tino Tuiolosega, John McSweeney, and the list goes on and on. Between 1100-1200 people attended the event, coming from all over the globe, with a choice of five seminars at any one time and eighty overall.
The second Gathering of Eagles took place in 2001 and was attended by approximately 1500-1600 people. The event also included the son of Choki Motobu, Chosei Motobu, Koshiro Tanaka, Ron Sanchez, Steve Labounty, Bob White, Bart Vale, James Ibrao, Thomas Mitose, Steve Finn, Roger Green, Dave Simmons, Pat Munk, Larry Tatum, Adriano Emperado, James Stewart, Dave German, Tim Teausant, Joseph Simonet, Sid Gee, Greg Mattson and many many more.
Grand Master Al Tracy has also been a wealth of information and should be honored as an innovator for his work in spreading Kenpo throughout the world and brining the Kenpo community together with events like the Gathering of Eagles.
Grand Master Al Tracy was inducted into the Blue Grass National Hall of Fame in June 2000.